Top 10 Chemical Companies in India
The Indian chemical industry gives the top 10 chemical companies in India. These companies are currently leading the chemical industry of the country. Do you know about them? Well, if not then we will definitely let you know about the best chemical company.
An exciting fact is that India is diverse with more than 80,000 commercial products which are connected with the chemical industry. The companies in this industry share a full range of products like agrochemicals, petrochemicals, polymers, bulk chemicals, fertilisers, and special chemicals. These different products are manufactured at different ranges.
With this, it is important to know the top companies in this market.
So in this blog, we will be reading about the top 10 chemical companies in India. You will be reading about the chemical industry of our country and which companies are leading it.
Read more here. Also, read about the Top 10 Car Brands In India.
Chemical Industry of India
When it comes to ranking the chemical industry in India, it stands in fourth position globally in chemical production. The market size of this industry is around $4.5 billion.
The specific production is done for the agrochemicals in India.
Also, we produce 16% of the world's dye intermediates and dyestuffs which itself gets a 15% share of the global market. We can see the colourant industry growing in the nation.
India ranks 8th in imports and 14th in exports from the chemical industry!
The leading top 10 chemical companies in India are improved after China. This industry has followed the strong demand from end-use industries and strong supply chains like China. As per the recent reports India's chemical industry was worth $176 billion USD in 2019.
But by 2025, it will expand to 9.3% and cross $305 billion USD.
Mumbai: Capital of Chemical Industry in India
Mumbai serves as India's chemical industry capital, playing a pivotal role in the nation's economic growth. This bustling metropolis is home to many chemical manufacturing units, earning it the nickname "Chemical Hub of India." Also, read about the Top 10 Tiles Company In India.
The city's strategic location near ports facilitates the import of raw materials and the export of finished products.
Mumbai's chemical industry spans a wide range of sectors, from pharmaceuticals to petrochemicals, contributing significantly to the country's GDP.
With its skilled workforce and robust infrastructure, Mumbai continues to attract investments and foster innovation, solidifying its status as India's foremost centre for chemical manufacturing and research.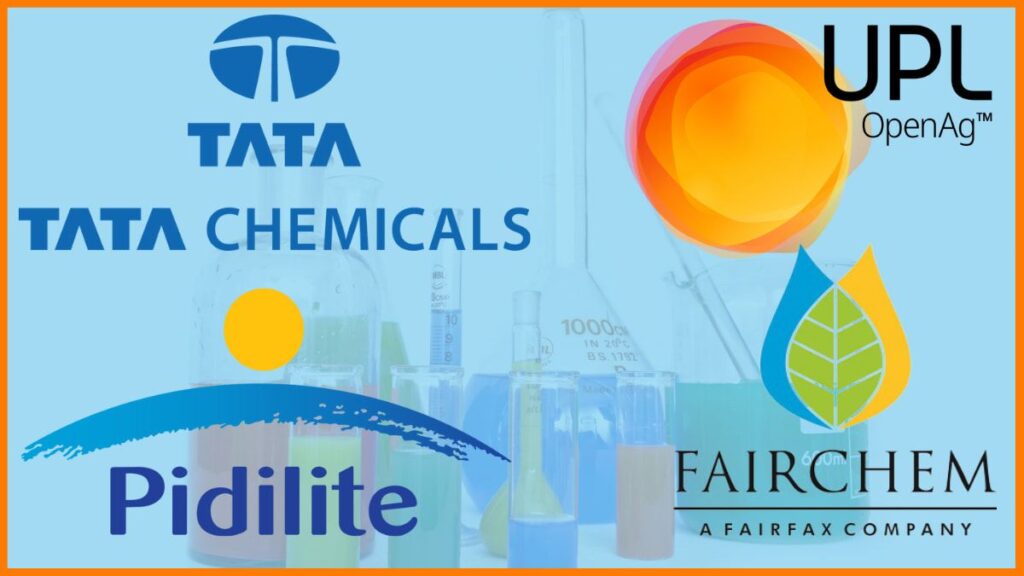 Top 10 Companies
As you know this industry is led by the top 10 chemical companies in India. So, we have to make sure to list them here. Although there are hundreds of manufacturing companies in this field. But below we have listed the top 10 best chemical companies in 2023.
United Phosphorus Limited
TATA Chemicals Ltd
Gujarat Heavy Chemicals
BASF India Ltd
Gujarat Alkalies & Chemicals Ltd
BAYER CropScience Ltd
India Glycols Ltd
Aarti Industries Ltd
Pidilite Industries
Atul Ltd
UPL: Biggest Chemical Company in India
United Phosphorus Limited (UPL) is the largest among the top 10 chemical companies in India!
Known for its agricultural solutions, UPL leads the pack among chemical firms. Its wide-ranging products, like pesticides and crop protection chemicals, help farmers increase yields. UPL isn't just big in India; it's a global player, exporting to many countries.
With its commitment to sustainability and innovation, UPL is a key contributor to India's chemical industry. Its growth and success underline its dedication to making farming more productive while safeguarding the environment.
Its impact on agriculture and its position as a top chemical company in India is impressive.
FAQ: Top 10 Chemical Companies in India
Who is the king of chemicals in India?
Hence, Sulphuric acid ( H 2 SO 4 ) is known as the king of chemicals.
Who is a leader in the chemical industry?
It is the biggest chemical company in the world. BASF India is involved in producing various agriculture-based chemicals, leather chemicals, Styropor, tanning agents, and many other chemicals.
What is Asia's largest chemical company?
China Petroleum & Chemical Corporation, or Sinopec, is a Chinese company based in Beijing and established in 2000. The parent organisation, Sinopec Group, is the largest oil refining, gas, and petrochemical conglomerate in the world.18-Aug-2021
Conclusion
This was our guide to the top 10 chemical companies in India!
We hope you have found our guide informative and looking forward to checking the reliable blogs. On this website, you will get to know more about top companies in the Indian market.
So, make sure to check other blogs as well.