Top FMCG Companies In India
The top FMCG Companies in India are doing very well in the market. They share high profits and also contribute to the growth of the nation's economy. Do you want to know more about them? Well, if yes then we have covered a full guide here, read on to know more.
On this website, we cover regular blogs on top companies and industries in the Indian market. Today, we will be looking at FMCG (Fast-Moving Consumer Goods) companies.
Do you ever think about who manufactures the products you use in your daily life? Well, in your day-to-day life, you use things like toothpaste, biscuits, creams, soaps, chocolates, and other products. These products are prepared and provided by different brands in India.
With this, today we will be looking at the top FMCG Companies in India.
What are FMCG Companies?
FMCG stands for Fast Moving Consumer Goods.
These companies are involved in the production, distribution, and marketing of everyday consumer products that have a high turnover rate.
FMCG products are generally low-cost items that are consumed rapidly and frequently, such as food, beverages, toiletries, cleaning products, and over-the-counter drugs.
FMCG companies operate on a large scale with extensive distribution networks. Also, read about the Top 10 Pharma Company In India.
They focus on meeting the daily needs and preferences of consumers and typically use aggressive marketing strategies to maintain brand loyalty and gain a competitive edge in the market.
List of Top FMCG Companies In India
Here is the list of Top FMCG Companies in India.
Hindustan Unilever Limited (HUL)
Established in 1933, HUL is a leading FMCG company in India.
It is a subsidiary of Unilever and operates with a decentralized structure. HUL is known for its strong distribution network and brand portfolio. Popular brands include Surf Excel, Lux, Dove, Lifebuoy, and Knorr.
ITC Limited
Founded in 1910, ITC is a popular company with a significant presence in the FMCG sector.
It follows an innovative business model and focuses on sustainability. Some popular products under ITC's portfolio are Aashirvaad Atta, Sunfeast biscuits, Classmate stationery, and Fiama bathing solutions.
Nestlé India
Nestlé is a global FMCG company that entered India in 1959.
It is known for its nutrition, health, and wellness products. Nestlé India has a wide range of popular products, including Maggi noodles, Nescafé coffee, KitKat chocolates, Cerelac, and Nestlé Milkmaid. It is one of the Top FMCG Companies in India.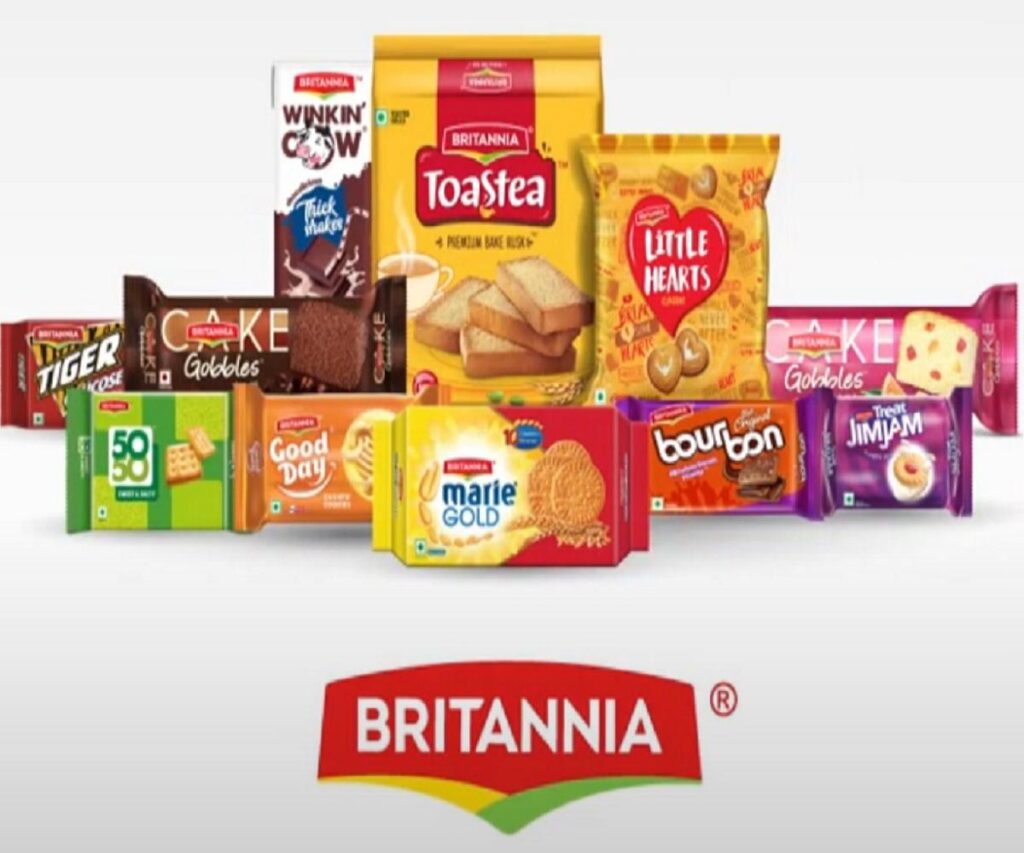 Britannia Industries Limited
Established in 1892, Britannia is one of India's oldest FMCG companies.
It specializes in biscuits, cakes, dairy products, and bread. Britannia has a strong market presence and is led by an experienced management team. Popular products include Britannia Good Day biscuits, Tiger biscuits, and Britannia bread.
Procter & Gamble (P&G) India
P&G India is a subsidiary of the global FMCG giant.
It entered India in 1964 and has since become a household name. P&G India focuses on personal care and hygiene products. Some well-known brands include Gillette, Head & Shoulders, Pantene, Whisper, and Ariel. P&G India employs effective marketing strategies to engage consumers and build brand loyalty.
Contribution of FMCGs to the Economy
FMCG companies make significant contributions to the economy.
Firstly, they generate large employment opportunities, both directly and indirectly, by establishing manufacturing units, distribution networks, and retail chains. These companies also contribute to tax revenues, aiding the government's financial resources.
FMCG companies often support local farmers and agricultural communities by sourcing raw materials locally, promoting rural development. Check the Best CCTV Camera Brand In India.
They contribute to economic growth through their extensive supply chains and logistics networks. Additionally, FMCG companies foster innovation and research, driving technological advancements in packaging, production, and product development.
Their robust presence and continuous investments in the economy play a crucial role in driving consumer demand and stimulating economic development.
What if there are no FMCGs?
If there were no FMCG companies in a country, the implications would be far-reaching.
FMCG companies play a crucial role in providing essential products to consumers on a daily basis, including food, beverages, personal care items, and household goods.
Without their presence, the availability and variety of these products would be severely limited. Consumers would face difficulties in accessing basic necessities, leading to potential shortages and increased prices.
The absence of FMCG companies would also have a significant impact on the economy, affecting employment, manufacturing, and trade sectors.
FAQ: Top FMCG Companies in India
Which is the No 1 FMCG company in India?
Hindustan Unilever Limited (HUL) is the largest and among the top FMCG companies in India, which has been in India for over 80 years.
Who is the FMCG king in India?
Hindustan Unilever Limited is India's largest fast-moving consumer goods (FMCG) company with a Historical presence in India of over 80 years. It is the largest in the list of top 5 FMCG companies in India.
Is Adani Wilmar bigger than HUL?
The packaged food major, a joint venture between the Adani group and Wilmar International of Singapore, has dethroned the 88-year-old Hindustan Unilever (HUL) which was till now the country's largest FMCG firm.
Conclusion
This was our guide to the Top FMCG Companies in India!
There are many more companies that will be added soon to the list. Which company do you think leads the Indian market? Share your answer in the comment section.